Choosing the right target keywords builds the foundation for an entire SEO campaign. If the right keywords with the highest potential for return are not selected, the foundation of the campaign will be weak and, therefore, success is nearly impossible.
In order to select the right keywords, data must be collected and analyzed so projections on return can be made. Gathering the necessary data, however, can be expensive and many businesses will not invest in best-of-breed SEO tools.
For those with limited budgets and without access to paid
SEO tools
, impactful keyword data is not out of reach. There are plenty of data sources and tools that can be used for free or offer free versions. By leveraging several free tools, advertisers can generate enough information to make informed decisions on keyword targets and set themselves up for successful SEO campaigns.
Below are three such tools. In a subsequent post, I will examine the best free SEO tools for auditing and troubleshooting.
Google Adwords Keyword Tool
The first step in choosing the right keywords is to understand what keywords consumers are searching and the demand of each of those keywords. This data can be determined using the
Google Adwords Keyword Tool
. In order to gain full access to the data you need to
sign up for an Adwords account
. You do not need to set up any campaigns or spend any advertising money.
There are three main ways to find relevant keywords using this tool, including inputting the website or page that is to be optimized, the category of the products or services the website offers, or a seed list of keywords related to those products or services. Before researching the keywords, however, it is important to implement the correct settings. Since we are looking for specific keywords that the market is searching, we want to analyze at the demand of exact match keywords rather than variations. In order to see the demand (search volume) of the keywords, use the "Match Types" option in the right sidebar and select [Exact].
The first way to identify keywords is to input the domain or page you are trying to optimize. Google will crawl the website and return a list of suggestions based on the content. For example, if you are looking for keywords relevant to www.MediaWhiz.com, you would enter the domain into the Website field and click the Search button for a list of relevant keywords. Once results are returned, be sure to select the Keyword ideas tab as opposed to the Ad group ideas tab. This will provide a comprehensive list of keywords with associated search volume. This can also be done using the domains of direct competitors.
For keywords related to a specific page, simply input the URL of the page rather than the domain into the tool for a list of keywords specific to that page.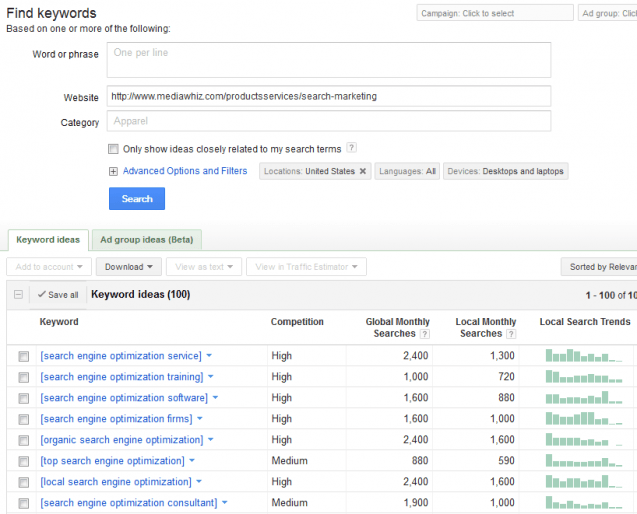 The second way to identify relevant keywords is by selecting the category. In this instance you would input the category of the products or services offered instead of a domain or URL. For example, if the service offered is "marketing," you would select the "Advertising & Marketing" category in the Category field and click Search. This is not always the best use of this keyword tool, however, because the categories are often very general and some categories are not available.
The third and most common way to leverage the Google Adwords Keyword Tool is to input a list of seed keywords (typically the names of the products or services offered) into the Word or phrase field. This will return a list of popular searches related to those seed keywords.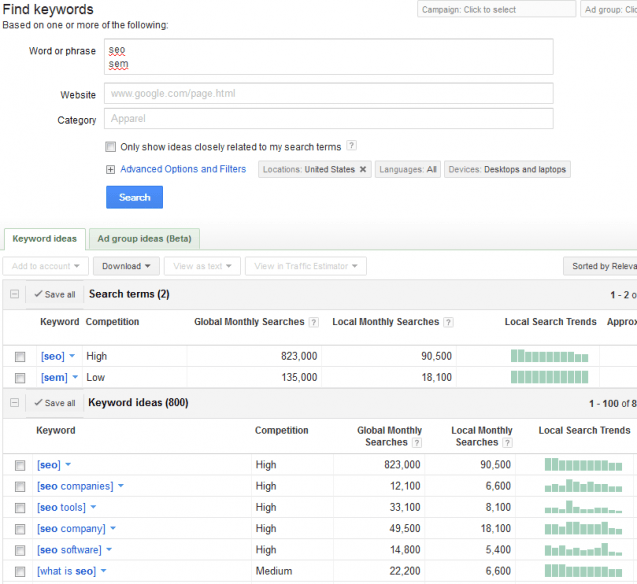 Google Analytics
Another method of identifying potential keyword targets is to look at the phrases that are already generating organic traffic to a website. This gives insight into the possibility to increase that traffic via optimization. Using
Google Analytics
, advertisers can review the keywords that are driving traffic organically to a website. Of course, having a Web analytics platform in today's digital marketing world is essential for many reasons and this is just one. There are many good analytics platforms, some of which have very high price tags. The standard version of Google Analytics is, in my opinion, just as useful as any other platform, with the only difference being it is free of cost.
The keywords driving organic traffic can be seen in Google Analytics using the Organic Search Traffic report. This can be found by navigating the following sequence within the right sidebar: Traffic Sources>Sources>Search>Organic.
In order to see the specific keywords generating traffic, ensure "Keyword" is selected as thePrimary Dimension.
This report will pull up the keyword level organic traffic metrics for the time period specified. It's recommended to look at a minimum of the last three months of data. If the business is seasonal, look at the time period reflective of high season.
Since this provides a list of keywords that are already sending traffic to the website, it is often the case that this traffic is generated because the keywords have some organic presence in one or more search engines. Optimizing against those keywords provides the opportunity to rank higher in the search engines in which the site is already ranking as well as infiltrating the organic results of additional search engines. Make a list of non-branded keywords from this report for further investigation. This may include inputting keywords into the
Adwords
Keyword Tool mentioned above to check the demand and into the Rank Checker tool mentioned below to see where the website is currently ranking.
There are some other important metrics to look at when determining target keywords for an SEO campaign. This analytics report also gives insight into engagement factors, such as bounce rate and average visit duration at the keyword level. By focusing on keywords with low bounce rates and a good amount of time spent on the site, the campaign will be focused not only on the keywords most likely to drive traffic, but also to drive visitors that are likely to perform an action on the site.
Rank Checker
Finally, when starting a new SEO campaign, especially with a small budget, it is helpful to identify and target the low-hanging fruit. A good strategy is to target keywords that a website already ranks for but are not yet in a position capable of garnering strong results. Oftentimes, a website will rank low on page 1 or on page 2 for a strategic keyword without any optimization effort. By implementing an optimization plan for those keywords, the website can often quickly move up the ranks into a position that will garner strong results.
There are many paid tools to track keyword rankings but there is an excellent free tool that allows users to check the rankings of up to 100 keywords on the fly.
Rank Checker
is a Firefox extension that can be downloaded after signing up for a free
SEOBook account
. Once downloaded, Rank Checker is available via an icon located at the bottom right of the Firefox browser.
The usefulness of Rank Checker for keyword targeting comes in conjunction with other tools for keyword discovery such as the Adwords Keyword Tool or Google Analytics. After using those tools to identify lists of potential keyword targets, it's easy to find some low hanging fruit using Rank Checker.
The first step is to set the options by right clicking the Rank Checker icon at the bottom right of Firefox and selecting "Options".
You can opt-in to check the rankings of your keywords in Yahoo and Bing as well as two different country-specific versions of Google simultaneously. The country-specific versions of Google and Yahoo can be selected using the drop-downs. Finally, in most cases you will want to check off the "Don't use Google personalized search results if any" option to get an idea of where the site ranks in general, not using your browsing history.
Now you're ready to run Rank Checker. Simply add your domain and keyword list (up to 100 keywords at a time) and usually within about a minute you will have the rankings. Look for high-value keywords that the site is already ranking low on page 1 or on page 2 or 3 to see what low-hanging fruit is available. The fact that the site is already ranking on one of the top pages shows there is already some authority for that keyword that can be built upon. These are typically quick-win keywords.
The above tools are my recommendations as three of the best free SEO keyword resources marketers can find. In my next column, I will analyze free SEO auditing and troubleshooting tools.
What are your favorite free SEO tools for identifying target keywords? Share your recommendations in the comments.